Indecision about cruising no more
I had always wondered what it'd be like to go on a Royal Caribbean cruise. Pondering, was it really something I'd like to do? On one hand, I'd contemplate being restricted on a boat for a long amount of time, which didn't seem quite attractive but then my focus would segue to more upbeat thoughts of maybe some downtime lazing in the sun, sipping a beer and occasional dips in the pool would be good for me. So any action on the subject would finally be replaced by a hazy bunch of conflicting thoughts. Inevitably my indecision would veer me to placing the idea fairly and squarely in the too hard basket.

However, in mid-2016 my sister gave me a call asking Gayle and myself to see if we would like to go on a Royal Caribbean cruise in February 2018 for her 50th birthday. That was plenty of notice and it was a celebration not to be missed. Any thoughts holding me back from taking on such an adventure were now put to the side. It was settled, we were going on a boat cruise!
So what's the plan?

The first stage of the process was determining all the details. The basic stuff, like where we were going, how to get there and what is it going to cost? My sister had done some considered research and decided the ocean liner was going to be Royal Caribbean upon the Mariner of the Seas. The departure and return point Singapore. Five nights sailing the Straits of Malacca with three stop off points Kuala Lumpur, Penang (Malaysia) and Phuket (Thailand).
Soon after I did some investigation online myself and discovered this ship was pretty nice, and a big one too! A capacity of just under four thousand people. Surprisingly I was a little bit excited and definitely sold on the idea. So in September of 2016, we made the commitment and put a two hundred dollar deposit on a promenade cabin. Not as fancy (and costly!) as a balcony cabin, although our reasoning was that we would have a window to look out at least. Surely the internal of the ship was going to be interesting, well, to some degree anyway.

The day had arrived
I'll fast forward to late 2017 as the anticipation was now starting to build. The long-awaited cruise date was soon upon us. It was time to pay the remainder of the cruise booking and do some research on what we were likely to experience on the cruise. Were we going to hop off at all the stops along the way or just get the most of staying onboard the ship?
Considerations were getting real and being social drinkers, the drinks package reared its ugly head. Ah yes, alcoholic drinks are additional on boat cruises and I needed to put my mathematical mind on the subject to try and work out if buying the drinks package was going to be worth the outlay. Being a first-time cruiser it is not very clear, to be honest. Asking friends, family and scanning a few internet forums the opinions appeared to be divided. In the end, we took the plunge and bought the drink deal. The general theme that was coming through discussion was that if you liked to have a few drinks it was generally better. Time would tell on this matter.

So finally the day had arrived where we would be flying to Singapore from our home in Brisbane to meet up with the family coming from Perth, Western Australia. A quick drink, eat and rest at the Furama Hotel. Next morning board for the long-awaited Royal Caribbean Cruise.

Singapore
It was only a quick ten to fifteen minute taxi ride to head over to the cruise terminal. Boarding is staged based on what deck you're on. The Mariner of the Seas has nine decks for the cabins so we arrived a little early, say around 10am, as we were on the eighth deck. Despite the crowds of people, the transit through customs was a fairly smooth one. Soon we were rolling our bags across the gangway and ready to get the party started! We were informed our room wouldn't be ready until 2pm so we made our way up to deck 11 where we indulged in a well-earned beer. There was some slight confusion initially thinking we had to pick up our drinks pass from somewhere on the ship but we soon discovered that this was automatically assigned to our card as we pre-paid.

First Day On the Mariner of the Seas
Later on in the day, we explored more of the Royal Caribbean Mariner of the Seas. On first impressions it definitely was spectacular. Giving the feeling we were actually on land in a fancy shopping mall. Especially when walking down the promenade on level five. No expense spared on fitting out all the stores and endless grand decorations. At this point, I was thinking this could be the lifestyle for me!

Day Two – Exploring the Ship
Day two saw us pull into the port at Kuala Lumpur. All of us in the family group had decided not to get off. Most of us had been there and it was a fair way to travel into the city and dad told the story of another occasion of getting stuck in traffic due to an accident and almost missing the boat. Besides, it was a good time to explore the ship further and give the drinks package a run for its money!
Things to do on the Mariner of the Seas Royal Caribbean Cruise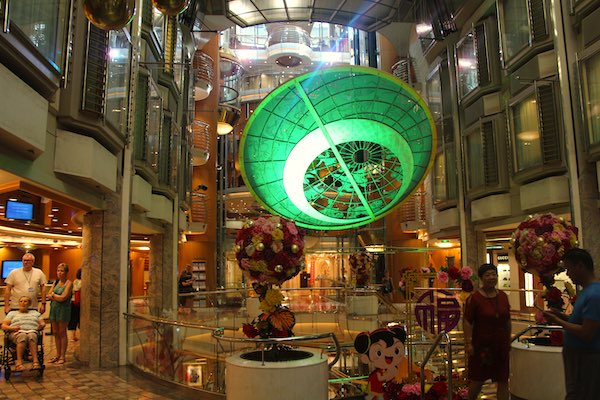 This is one of the things that took me by surprise was the sheer number of things that you can actually do on these larger cruise ships. Initially the top deck with all the pools and sun bathing areas were a hit. Perfect for family congregations. Later we investigated the lower internal levels of the ship where there was a shopping mall, small eateries, a theatre, casino. So much really, I'll list in note form below..

Restaurants
Bars
Shopping – fashion clothing, jewelry, liquor, beauty products and more.
Spa and Fitness Centre
Casino
Entertainment – Dancers, musicians, comedians and magicians. Special appearances for the kids too!
Swimming Pools
Ice Skating
Theatre Productions
Art Gallery
Rock Climbing Wall
Dancing Classes
Various Sports – Table Tennis, Basketball.
Fitness Gym
Night Clubs
Pool Tables
Library and Card Room
Arcade Games
Movie Theatre
And probably quite a few more things I've not mentioned above! Here is some more information on Mariner of the Seas cruises.

Day Three – Penang
Day three was time to jump off the ship. We had arrived in Penang. One of our favourite places. Whether the family were getting off or not we were determined to go into Penang and get ourselves a nice char kway teow and walk around the old streets of George Town.

Day Four – Phuket
Phuket wasn't a destination we had been before. We had spent some time in other places in Thailand like Bangkok, Chiang Mai and Pattaya. We really like Thailand, so we were keen to explore the island of Phuket.

Kuala Lumpur and Penang which had ports to make it easy to depart the boat. Phuket requires you to catch a tender boat from the ship to shore. A large number of people wanted to depart the boat so this process was a fairly long-winded process. However, the organisation was very good. You just need to be patient. Passengers that had purchased day tours through Royal Caribbean were prioritised first depending on the tour departure time. We had purchased a half day tour that departed a little later so we needed to be a little more patient. My advice to anyone wanting to just jump off and have a look around Phuket is to wait for all the tour groups to get off. So plan later for in the morning.
Day Five – The last day heading back to Singapore
Two final days in Singapore
Peninsula Excelsior on the way back.